Of Bowls and voices

, exhibition presented at Oboro from April 27 to June 1, 2013, at the Clay and Glass Gallery from June 27 to September 1, 2013 under the title

Of Vessels and Voices

and as part of

Ground Signal

at the Surrey Art Gallery from September 23 to December 10, 2017
Opuscule written by Marie Perrault and published by Oboro
Performances by Lysa Iqalik and Annesie Nowkawalk
Elektra 14 Anti / Matter
International Festival of Digital Arts, Montreal, May 1 - 5, 2013
Text by Jean-Émile Verdier on "Bowls and voices games"
Commentary: La source, forum de la diversité
Singers: Margaret Mina and Ida Oweetaluktuk
Bowls and recordings: Marie Côté
Audio video editing: Olivier Girouard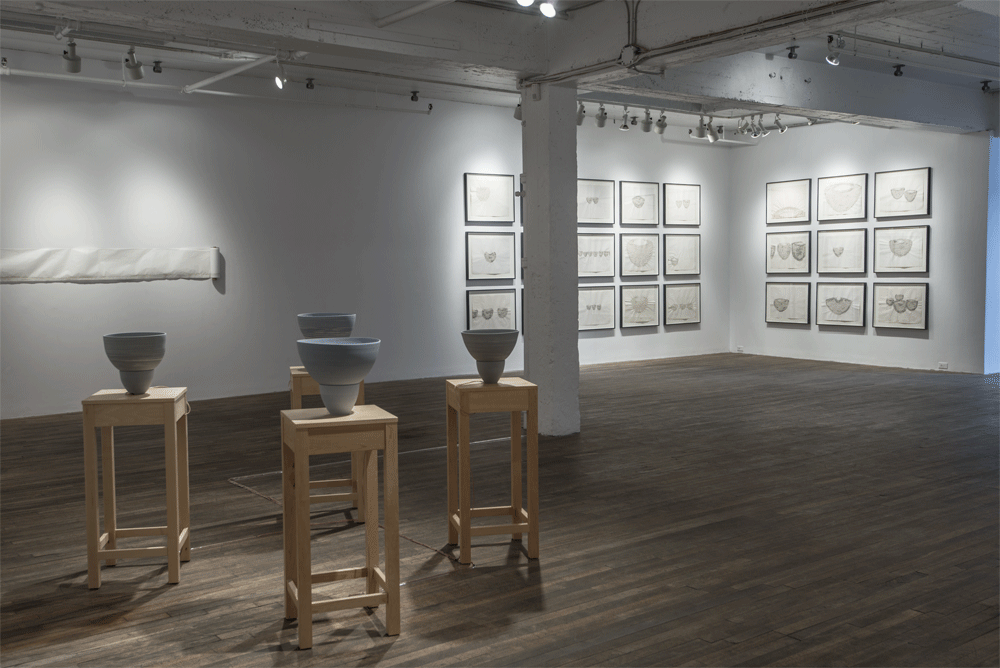 1/1
My project is a visual and sound installation which also includes a series of clay drawings on paper. I produced this body of work in Inukjuak, Nunavik, over the summer of 2011 through a grant and an artist-in-residence program subsidised by the Conseil des arts et des lettres du Québec, Aumaaggiivik (Nunavik Arts Secretariat), the Kativik Regional Government, and Air Inuit.
Eight throat singers sang with and in the porcelain bowls I made specifically for the occasion. I recorded their chants in four different locations: at the Avataq Cultural Institute, in the community family centre Sungirtuivik, in a traditional Inuit inter-seasonal dwelling called a qarmaq, and in a house that served as my residence for the time I was there. Along with the music, the recordings also include the conversations between the singers, the repetition of particular melodic motifs, and the ambient sounds of everyday life in the north.
I initially got the idea of singing and bowls when I heard Inuit singers in a concert given by the Montreal Symphony Orchestra under the direction of Maestro Kent Nagano. I was intrigued by the proximity of the singers' mouths when singing and later asked one of them why were they so close to one another. She told me it was for the echo. This simple answer suddenly propelled my research into the world of Inuit vocal games, voice and echo. If sound reverberates through juxtaposed mouths, why not add to the phenomenon of sound reflection an element – porcelain bowls – capable in their very form of reverberation and resonance? It is around this question that my project Of Bowls and Voices finds its source and inspiration.
The installation includes four porcelain elements or diffusers that play back the recordings through hidden speakers. When, by chance, one of the throat singer's voices finds itself in harmony with the resonance of a bowl, the sound seems to spin and elevate itself in a gyratory movement that coincides perfectly with the roundness of the bowls. And within the same movement and in the same space, the bowls and voices reform and situate for the eye and the ear a little bit of the North's colour and intonation. The circularity of the mouth and the bowls and speakers, and the northern sky all play off one another.
​
Voices : Elisabeth Nalukturuk, Nellie Nappatuk, Sarah Naqtai, Phoebe Atagotaaluk-Aculiak, Lysa Kasudluak Iqaluk, Margaret Mina, Annesie Nowkawalk et Ida Oweetaluktuk
​
Sound excerpts: Of Bowls and Voices
Sound editing: Olivier Girouard
1/1
1/1